Vale Cemetery is proud to announce its selection as the 2020 Cemetery of Excellence by the American Cemetery & Cremation magazine (ACCM).
The ACCM chose Vale for this prestigious award for its perseverance as an inner city historic cemetery and for its numerous and diverse programs. It acknowledges Vale as a vital social, historical and environmental resource and for its fiscal stability in trying times.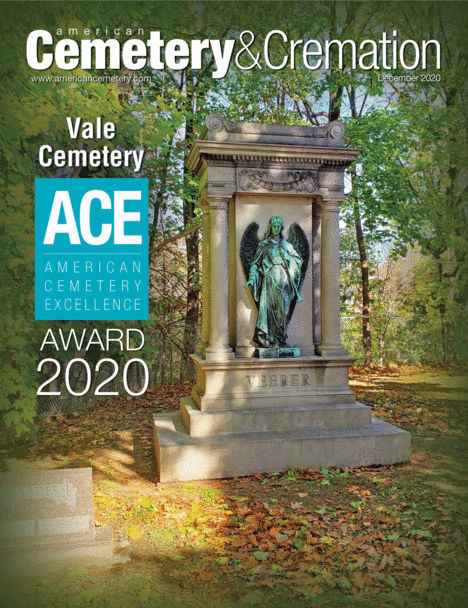 The magazine editors spoke with Vale Board Secretary, Dr. Bernard McEvoy and City Historian/Vale Board member Chris Leonard. They were impressed with the development of the Dell, a natural Green Burial area and the revitalization of the African American Ancestral Burial Ground, which is on the National Park Service Underground Network to Freedom and is the site of a Juneteenth Ceremony. The Dell is a wildflower meadow and a pollinator garden. The African American Burial ground is the grave site of Moses Viney, a runaway slave, who became a prominent businessman.
Vale's community involvement includes 9 yearly public tours, school and group tours, guided nature walks and bird walks, two road races, a Memorial Day program. Unused cemetery land is the site of an Urban Farm community garden with chickens and rabbits and a beekeeper.
A place of tranquility as a certified arboretum, it provided meaningful service during the COVID-19 pandemic.
Superintendent Clark Adams and his staff are to be commended in receiving the award as their excellent service to funeral directors is the essential factor for Vale's reputation.
The article can be read in full on their website.